KONDITORI (noun) \Khan- da- tor- ree\:
Traditional Swedish gathering place to enjoy warm drinks, fine baked goods and confections
Where one goes to Fika (take a coffee or tea break)
Who We Are
Established in 2010 in Park Slope, Brooklyn, KONDITORI has grown to ten locations as the go-to neighborhood coffeehouse. The creation of the flavorful Konditori coffee bean involves mixing Arabic beans from three different Central American countries through an air heated process which produces an exquisite flavor that is uniquely Konditori. Coffee is brewed fresh every hour on the hour to maximize the aromatic experience ensuring the perfect cup of coffee every time. We use Fresh Press for our medium to light house blends creating a very robust aroma with a uniquely clean finish. Our Iced Coffee is cold brewed for 24 hours – producing superior flavor with 70% less acidity and no bitterness for the perfect refresher. As a perfect complement to our coffee, we offer a cornucopia of Swedish and American treats including hand rolled kettle boiled bagels, gourmet muffins, and fine Swedish baked goods like Cardamom Bread (coffee bread with almond filling), Kanelbulle (cinnamon rolls) and Coco Balls to name a few. Modeling after the Swedish tradition of clean healthy living, Konditori has a Bakery in their Prospect Heights Shop to include Vegan and Gluten Free delights. Everything is flavorful, natural and freshly prepared.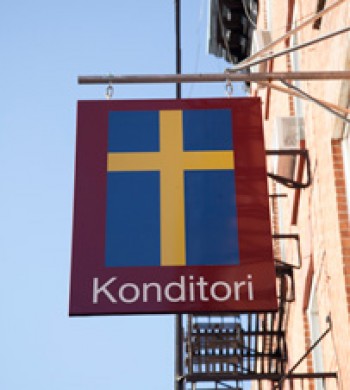 Owners
A unique duo, Per Inglander, Swedish born and Ronny Kaj, a native Brooklynite, merged their two worlds to create the unique Konditori brand. The concept was simple. Incorporate the Swedish lifestyle of a traditional European home-away-from-home coffee shop and marry it with a Brooklyn culture. Their mission still stands the same to create a unique vibe with a Swedish flair.
Per Inglander grew up in Stockholm, Sweden, a city of ice and water, Vikings, beautiful landscapes and culture. He attained his MBA at Stockholm University – spent summers sailing in the Archipeligo or hanging out on Gotland, and his winters skiing in the mountains of Sälen. His upbringing in Sweden where people are health conscious and outdoorsmen combined with an appreciation of different artistic expressions and cultures eventually landed him in the heart of Brooklyn when he moved to the States over 20 years ago.
Ronny Kaj, a native Brooklynite, has the swagger of his hometown. With an eye of an artist and a background of a strong businessman, he is a natural people person. Previously, he has been in business for over 20 years starting his successful career in the world of fashion; owning and operating retail locations throughout the tri-state area as one of the premier go-to destinations for designer goods. He has been doing business with Per Inglander since the 1990's, which is where their unique friendship began.
Konditori is a mix of all that is Sweden emulating a leisurely vibe and an appreciation for a chill, lax lifestyle – whatever the weather or people coming together and making a home at their local Konditiori.

Per and Ronny's common esthetic passion mixed with their chill personalities has inspired the warm, vintage and rustic environment that can be found in each Konditori shop. Everything from 1960's refrigerators, old-school classroom chairs, wooden doors constructed into tables and exposed brick walls mixed with hand made copper counters, all designed and hand-crafter by Per Inglander himself – are the trademarks of every Konditori cafe..